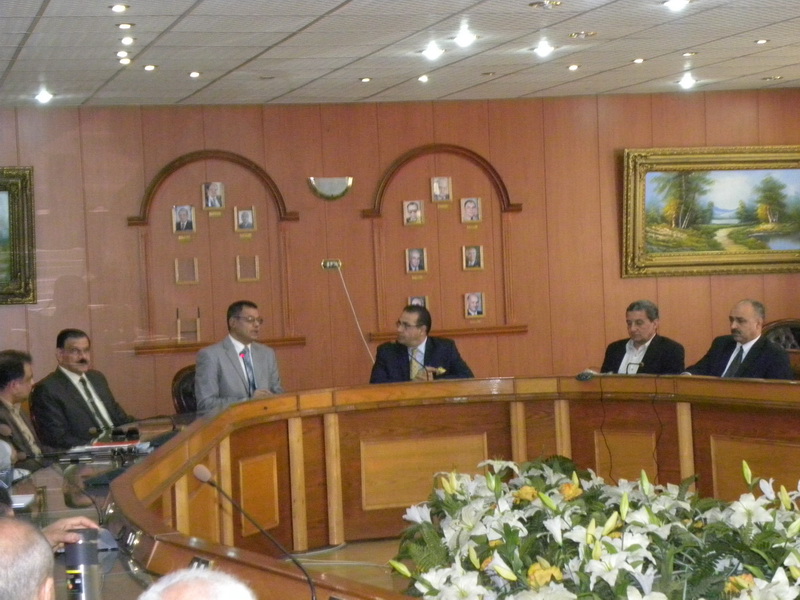 The President of Mansoura University; Prof. Mohamed El-Kenawy visited the Faculty of Engineering on Tuesday, 2 May 2017 to acknowledge the development and renewal of the faculty of engineering labs and be familiarized with the strategic plan and future development of the educational service at the faculty of engineering. He was hosted by Prof. Mohamed El-Said, Dean of the faculty, Prof. Hisham Arafat, Vice Dean for Education and Students Affairs, Prof. Maher Abdel Razzaq, Vice Dean for Community Service and Environmental Development and Prof. Sobhy Abdelkader, Vice Dean for Postgraduate Studies and Research.
The purpose of this visit was to pursue development of educational process. Prof. Mohamed El-Said, Faculty Dean, talked about renovating the infrastructure of some faculty labs, such as the Chemistry lab, Lecture Hall 11, Computer & Systems Department labs and others. He added that there are work in progress for developing other labs and a strategic plan for the development of the remainder of the faculty labs. This is completed through the Faculty of Engineering own funding which the faculty work ruthlessly to maximize the benefit from the current fund and find sources for generating finance.
At the end of the visit the President of the University congratulated Prof. Salah Oubaya, professor at the Electronic and Communication Department for winning Khalifa award for the distinguished professor from United Arab Emerates. At the end of the visit, the University President passed by the labs of Electronic and Engineering Department to stand on the development and modernization. He thanked the faculty members for the effort. The visit ended around 12:00 noon.